Sometimes I feel as if I'm living in an alternate universe here in Kyoto. It can be a little bit like the beginning of a "once upon a time" story.  Now I'm in the story.
After many years of coming here, I admit, most likely I am seeing Kyoto with rose colored glasses.  I like it this way.
The streets and sidewalks are immaculate.  There are few trash cans.  People take their trash with them if there is no where to dispose of it while out and about.  Storefront sidewalks are swept daily and washed frequently.
There is a  level of politeness and respect for others that is omnipresent.  It makes life very pleasant.  You are rarely ignored and always paid attention to in a store or restaurant. People seem to take their jobs seriously  and endeavor to do their best at them.  This attitude becomes contagious.
Everyone is in on the jokes.  Laughter and smiles come easily to the townspeople.
You're enveloped by a sense of personal safety here. Few, if any, situations feel personally threatening.
Anger, if any, seems to remain sublimated.  I've yet to hear anyone shout in anger, although I imagine it must, maybe behind closed doors.
Honesty in commercial interactions is a given.  No need to count your change.  Something left behind? It will be quickly discovered and returned if possible.
Young couples walk together holding hands.  If they began to sing and dance, it wouldn't feel out of place.
Taxis are immaculate.  Drivers act responsibly.  They usually know their way around.
Japan has an annual award for best laundromat.  Below, this year's winners.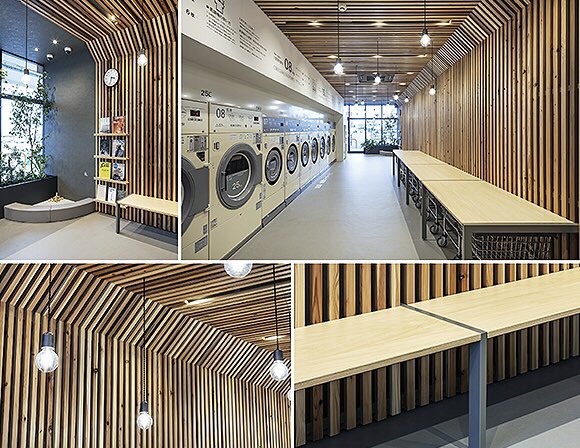 The colors of many cars on the streets are like Easter eggs.  Not so fragile though, with good drivers at the steering wheels.  What are American car manufacturers afraid of?  I'd go for one of these for the color alone.
The food in Kyoto, according to my husband is "the best in the world!" We've yet to have a disappointing meal.
A great many residents of Kyoto choose bicycles as their main or auxiliary form of transportation.  It makes things nice and quiet, once you're off the main streets. Young mothers take their young children to school on bicycles.
There's seemingly no end to great bakeries.  I mean great. They're strongly influenced by the French. I'm strongly attracted to each of them.
Everyone obeys pedestrian traffic, waiting together at lights until the signals say go. I's an orderly place.
I walked into a local and traditional confectionery today .  It was in an old machiya.  I was ushered into a small restaurant space within the store and shown to a table that overlooked a glassed in courtyard garden.  We'd had rain showers most of the day  A single azalea bush looked as if its bark were a line drawing. Its wet leaves where the raindrops clung reflected the dimming outside light  like dozens of small mirrors.  An orange and white juvenile koi lazily circled in its watery brown ceramic basin, adding a bit of graceful movement to the serene scene. Nature is not forgotten at these establishments.
The patrons talked in hushed voices. I sipped my green tea and ate my mochi thinking that this scene probably remained unchanged for the last hundred years with the exception of attire.  The woman at the next table wore a kimono and looked more in keeping than anyone else.  What a lovely way to end the afternoon!