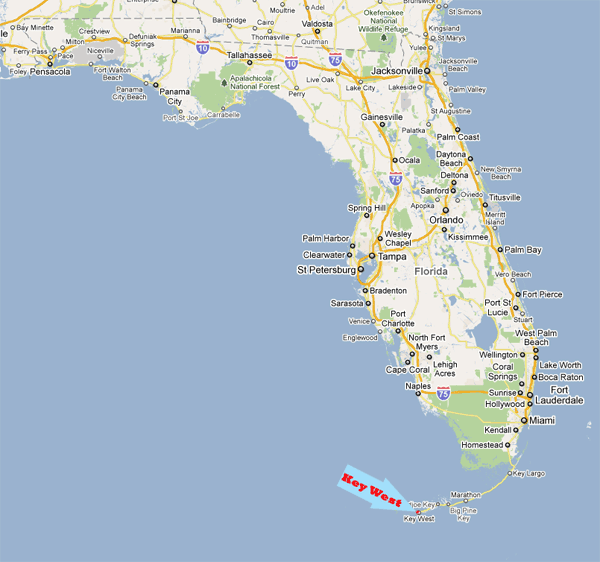 This historic, tropical city, is to me, one of the most exotic in the USA.  Beyond the southern tip of the Florida peninsula, the isle basks partly in the Atlantic Ocean and partially in the Gulf of Mexico.  It's ideally situated to take a direct hit from a hurricane, and of course has.  There's something to these places that take you as far as you can go in one direction that can attract an odd demographic of inhabitants and an odd range of desires.  Here, there's a relatively congenial assortment of aging hippies, retirees, Cuban refugees, young men and scantily clad women out for a good time if you get my drift, a large service industry made up of a sizable contingent of foreign workers, Florida tourists, booze hounds  and just plain drifters.
There's a decent number of historical sights that add depth to the superficial overlay of the island.  Each has a story to tell of fortunes made and lost wrecking ships, of former political alliances, of the life style of the fabulously wealthy, and of wars fought long ago. The fact that Ernest Hemingway. Harry Truman and Tennessee Williams hung out here adds to the mystique.
The frosting on the Key West cake for me is the abundance of historic architecture mostly with a West Indian slant. Think of wrap around porches designed to catch the tradewinds in a very humid environment. The streets are cheek to jowl with house after house, often surrounded by exotic gardens, each with its own quiet and long lost history.
I can easily fold into this setting for a while. Lots of key lime pie to taste. whipped cream topping or skip-the topping. I don't like the meringue topping. stone crabs chilled and cracked at Eaton St. Seafood Market .  very casual.
And don't forget the succulent stone crabs. Buy them by the pound, or the piece. In case you're just learning the key lime pie "ropes," Key lime pie should be yellow, never green!
I think it's a perfectly reasonable goal to eat 1-2 pieces of pie per day while in Key West.  Don't let anyone tell you otherwise.
We tourists have it ez.  Our biggest daily decision is where to dine.  We easily catch the sunset because an horizon is never far away.  I admire the city residents; hard working and resilient.  Appreciative of beauty.  Lingering over good drinks.  Deciding for themselves what is important to  their lives.
i'm still looking for a Cuban Dance Hall.
Key West seems more Caribbean than American.  It wears its history well and Its history is never far away.
It's a pain in the ass getting here from SoCal, but once here, everything mellows out.